We make it easy... and free!
Surf Camp Registration
Event Promotion & Online Registration Specialized for Surf Camps
Running camps is a lot of work… we make camp promotion and online registration simple. Tell us about your camp and we'll do everything for you… at no charge. Take online registrations and promote your event tonight!
Powerful, trusted, and reliable
Event organizers love Surf Signup (See what they say) and with over 400 events and 18,000 registrations, we got this!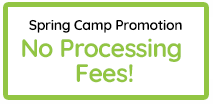 Signup now and we'll cover the credit card processing fees for the first year. No one does that! That means if your camp is $100, you get a $100. Just put
"spring"
in the promotion field when signing up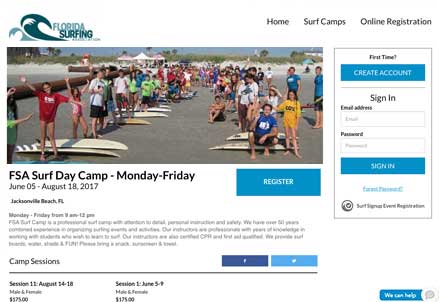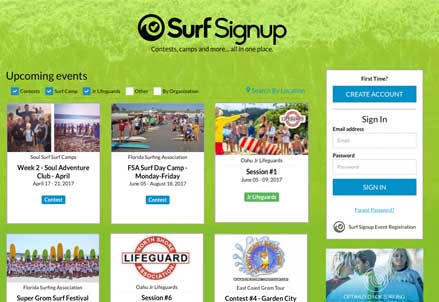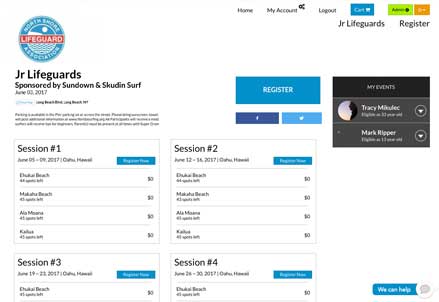 A promotion machine
Be seen by thousands of surfers daily.
Our camp index, syndication, social sharing and secret sauce gets you more exposure for your events and more signups!


See what industry leaders say about Surf Signup
---
As reference, below are details typical for camps.
General information

Name, Dates, Locations
Camp information and details (sunscreen, pick up area and time, lunch…)
Logos and images

Registration information

Option name (examples: day, half day, lunch, children, teen)
Dates and locations
Price, early registration price
Early registration date
Registration cutoff date
Spots/capacity

Surf Signup will direct-deposit revenue to your bank account. To do this, we'll need your bank account, routing number and business tax ID.
Start taking registrations tonight
Tell us about your event and we'll set you up. Complete form, call, or email us.
(949) 682-8457